CROWN SERIES
DISCOVER CROWN.
THE BEST OF THE BEST.
With highly innovative materials and groundbreaking technologies,
our Crown series is the line for all who want the best without compromise.
CROWN SERIES
STRONG FEATURES FOR
UNIQUE PERFORMANCE.
• Highly Innovative Materials
• Future-Oriented Technology
• Exclusive Design
• The Right Warmth
/
Tearproof outer material
The extremely durable outer fabric makes the Arctic jacket extremely tear-resistant.
Climashield-Padding
With CLIMASHIELD insulation, our Arctic jacket maintains a constant body temperature even in climates with high humidity.
Reinforced shoulders
The shoulder patches with a diamond quilting pattern reinforce the shoulders.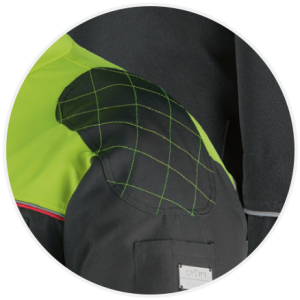 Holding strap for a microphone
With the integrated holding strap, your microphone is set up and positioned correctly in just a few seconds.
Chest pocket with pen case
Secure storage due to the integrated chest pocket and pen case.
Sleeve pocket with pen case
Secure storage thanks to the integrated sleeve pocket with pen case.
Flap for closing the collar
The high collar with faux fur ensures a warm neck and can be closed with a flap.
CROWN SERIES
ALL THE BEST. FOR THE BEST.
/